Audi MMI 2G aux audio source can be activated and after doing some wiring you can enjoy sound on your car audio system playing from your iPhone, iPod, notebook, mp3 player or any other source. It's a cheap alternative for AMI (Audi Music Interface).
Tools
Diagnostic interface like VCDS, VAG-COM, VAS or any other that's capable of performing coding and adaptation procedures.
audio wire with suitable connector (3,5mm jack is most popular)
4 x "Repair Wire 0.5mm" part
cutters
ratchet crimping tool
Warning!
Performing this procedure may cause permanent damage to your car.
Do this at your own risk!
We are not responsible for any loss or damage.
Preparation
You car need to have MMI 2G system. Check your Multi Media Interface version.
Check this article: Audi navigation systems – MMI RNS BNS RMC differences.
Your sound system version have to be standard. This procedure will not work on Bose or Bang&Olufsen sound systems.
Your Audi MMI 2G head unit must be equipped with green FBAS connector. If your car is not equipped with rear view camera or TV Tuner, you probably don't have aux-ready head unit.
Make sure that your Audi Multi Media Interface 2G software version is up to date. In some older versions you won't have access to hidden green menu or it will have less options then described. Read article MMI 2G software update to version 5570.
Hidden menu must be enabled. Check this article: Enable MMI hidden green menu (2G, 3G, 3G+).
First connect diagnostic interface to the OBD2 port, then turn the ignition on.
Audi MMI 2G aux wiring for standard audio amplifier
Locate your audio amplifier. It's usually hidden in the trunk or under the floor, on the left side.
Find 32-pin conncetor and disconnect it from the amplifier. It should be labeled as T32h.
Locate pins no. 24, 26, 29, 31 on the connector. They should be empty. You have to wire those pins for left and right audio signals.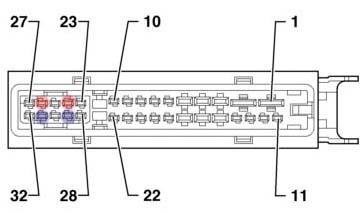 Audi MMI 2G aux coding for standard audio amplifier
Connect with module 47 – Sound System.
Choose procedure 07 – Coding.
Read original coding (e.g. 0000023). Write down this number.
Add 3 to second to last digit of original coding (e.g. 0000053).
Enter and save new coding.
Exit.
Audi MMI 2G aux activation in hidden green menu
Turn key into II position and wait for the MMI 2G system to start. You can also use keyless buttons.
Press and hold buttons SETUP and CAR.
After couple of seconds hidden green menu will appear. You can now release the buttons.
Navigate to DIAG SETTING → APK 0x01, 0x0B, 0x0C.
Scroll, find and enable Stereo Aux In on the list.
Scroll down to Accept Changes and confirm.
Press RETURN button multiple times to exit hidden menu.
Press MEDIA or CD/TV button, then press top-right soft button labeled as Source and check for AUX on the sources list.