Audi MMI 2G hidden red menu was created mostly for easy software updates of your Multimedia Interface system. In this hidden menu you can also find information about cars equipment (CD changer, navigation, TV tuner, Audi Music Interface…).
This description was created based on software version 5570. If your car is using older software, you might find some differences.

Warning!
Performing this procedure may cause permanent damage to your car.
Do this at your own risk!
We are not responsible for any loss or damage.
Preparation
Make sure that you have in you car Audi Multi Media Interface 2G (MMI 2G). Check details in article Audi navigation systems – MMI RNS BNS RMC differences.
Make sure that your Audi Multi Media Interface 2G software version is up to date. In some older versions you might find differences or it will have less options then described. Read article MMI 2G software update to version 5570.
Audi MMI 2G hidden red menu enter procedure
Turn the ignition on.
Wait few seconds for the system to start.
Press and hold button SETUP and RETURN.
After few seconds Audi MMI 2G hidden red menu will appear on the screen. You can release buttons now.
Use control knob to navigate.
Audi MMI 2G hidden red menu description
When you enter hidden menu you will see all modules in (depending on optional equipment in your car):
Interfacebox – MMI head unit
MP3-Changer – 6CD MP3 disc changer
Handyvorb2 – bluetooth handsfree kit and car phone
BO_Q7 – Bang & Olufsen audio system
Navibox D3 – GPS navigation
TVHybridDVB – Hybrid TV tuner
SDS 3500 DE – Speech dialogue system
Tuner EU/US/RDW – AM/FM radio tuner
In this view you can choose only strong>SWUpdate special function button. After pressing it system will ask you for update source.
After choosing on of the modules (e.g. Interfacebox) you can see some of its properties:
SW-Number – software catalogue number
SW-Index – software version
SW-Date – release date
HW-Number – hardware catalogue number
HW-Index – hardware version
TextTool
In this view you can see four additional special function buttons: IRC, MOST, Parameter and On/Off.
IRC
Here you can see MOST ring logs by category:
Available current Logfiles
Available save Logfiles
Dump Logfiles on MOST
Save Logfiles
Deleting IRC log list
Show OLD Exception-List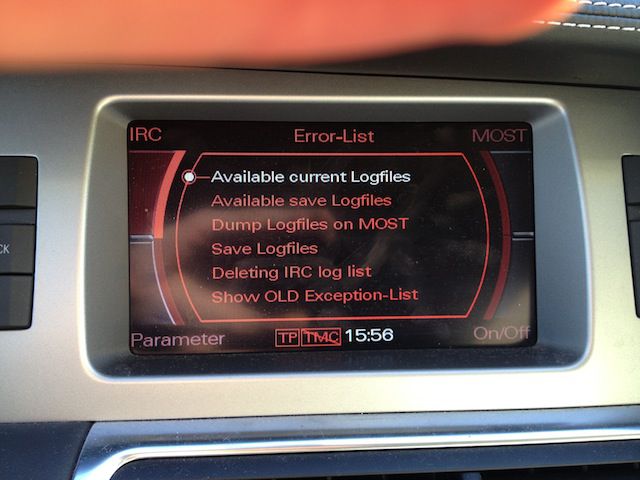 Additionaly logs are divided by subcategory:
Session ID list
Misc log list
Speicher Log-Liste
OnOff log list
Audio log list
Exception log list
Watchdog log list
Keyboard log list
Panel log list
LVDS Log-Liste
MapView log list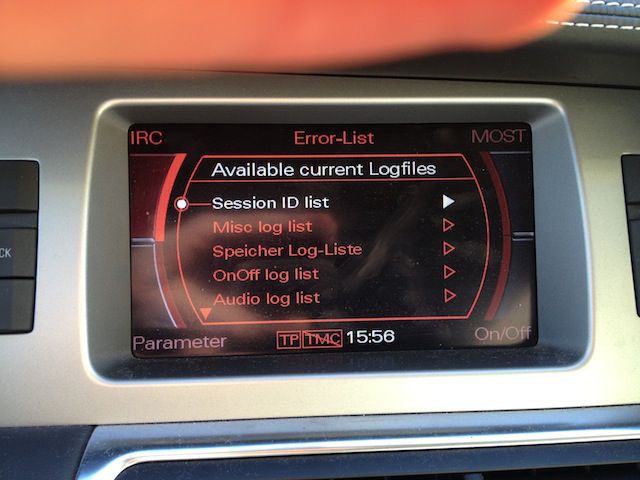 Sample log contains only basic information like message title (short and long), date and time of the event.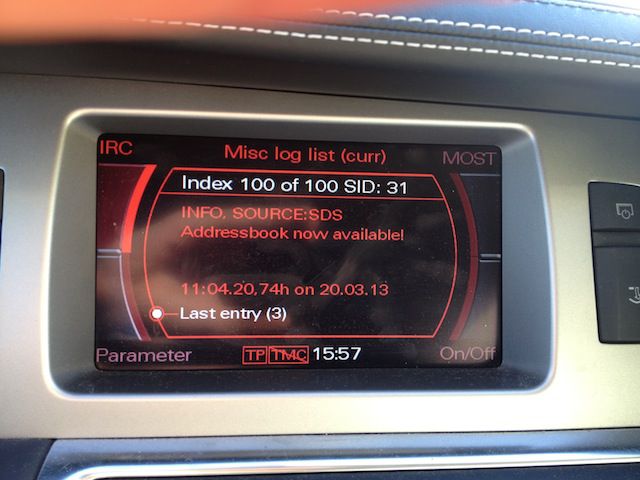 MOST
Here you can see details about MOST ring for each connected module.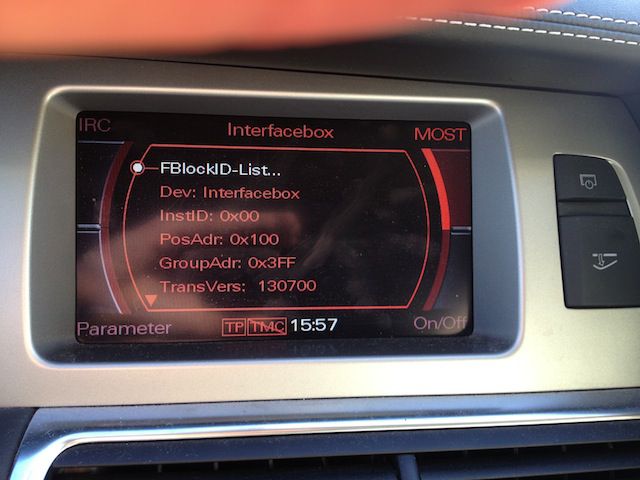 Parameter
This view lets you check couple parameters of currently selected module. For Interfacebox you can check:
FOT-Temp – module temperature
Display-Temp – display temperature
Brightness
Power
MemFree – free memory
MemAlloc – allocated memory
MemMax
MemLow
OperTime – total operating time counter
UBC enabled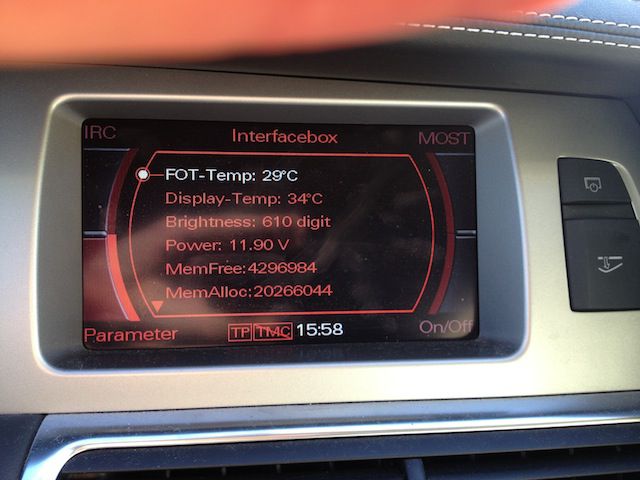 On/Off
In this view you can check few details about module power cycles.