Audi navigation systems look similar but in differences between them are significant. The confusion is even stronger since most system use very similar "Audi Multi Media Interface" splash screen and user interface.
Audi navigation systems – BNS vs RNS vs MMI
BNS (Basic Navigation System) is simple CD-based navigation with red monochrome display.
RNS (Radio Navigation System) is a stand alone device that was available instead of standard stereo system (Chorus, Concert, Symphony) as an option. It has color LCD screen and much more functionality then BNS.
MMI (Multi Media Interface) is a complex entertainment and car control system that uses MOST ring. It always have an LCD fitted in the dashboard, control panel next to gear stick and CD drive.
Basic Navigation System – BNS 4.x vs BNS 5.x
BNS 4.x is an additional device for your stereo system, it uses DIS display in the instrument cluster and extra buttons mounter next to hand brake.
BNS 5.x is a device mounted instead of standard stereo system and have a large red monochrome screen. This device is labeled "Audi Navigation".
Radio Navigation System – RNS-D vs RNS-E vs RNS-E 2010
RNS-D has a tiltable color LCD screen with 4:3 ratio placed in the middle of the device, 2 symmetrical control knobs on the sides.
RNS-E has a large 6.5-inch LCD screen align to the left, row of function buttons near lower edge, big control knob and small volume knob on the right.
RNS-E 2010 is a facelifted version of the standard RNS-E device. It has higher quality screen, MEDIA button instead of CD/TV or CD/SD button and chrome control knobs.
Those devices can be optionally equipped with TV-Tuner, CD changer, external audio and video input, Sirius satellite radio.
To confuse you even more, Audi decided to label all those devices as "Audi Navigation Plus". Also RNS-E and RNS-E 2010 are using MMI welcome screen.
Multi Media Interface – MMI Basic vs 2G vs 3G
MMI Basic (Plus) MMI 3G Basic uses monochromatic red display.
MMI 2G uses a 16:9 ratio color LCD screen.
MMI 3G have higher resolution screen and better user interface (rounded corners and nicer fonts). Also uses different control knob with joystick on top to pan maps.
MMI 3G+ vs RMC
Both system are using similar use interface (e.g. with Google Maps navigation) but MMI 3G+ have HDD for MP3 files storage. RMC (Radio Media Center) is not equipped with hard disc drive so in sources menu you will not find Jukebox option.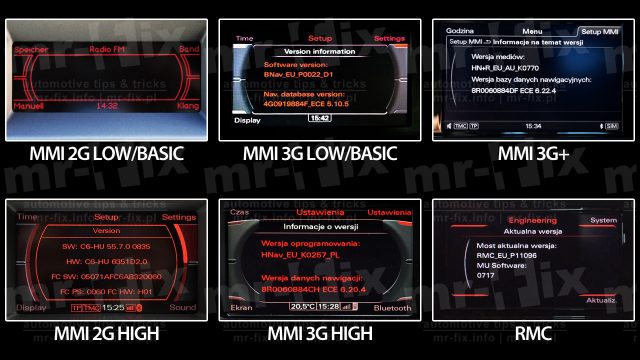 Audi navigation systems fitment
Different car models had different optional equipment available. Below you can find OEM fitment list of Audi navigation systems but over the years car owners learned to retrofit Audi navigation systems to not supported vehicles.
Audi A1
Audi A2
Audi A3

8L: RNS-D
8P: BNS 5.x, RNS-E, RNS-E 2010
8V: RMC

Audi A4

B5: RNS-D
B6: RNS-D, RNS-E
B7: BNS 5.x, RNS-E
B8: MMI Basic, MMI 2G, MMI 3G, MMI 3G Basic, MMI 3G+, RMC

Audi A5

MMI Basic, MMI 2G, MMI 3G, MMI 3G Basic, MMI 3G+, RMC

Audi A6

C5: RNS-D, RNS-E
C6: MMI Basic, MMI 2G, MMI 3G, MMI 3G Basic
C7: MMI 3G+, RMC

Audi A7
Audi A8

D2: RNS-D
D3: MMI 2G
D4: MMI 3G+

Audi Q3
Audi Q5
Audi Q7

MMI Basic, MMI 2G, MMI 3G, MMI 3G+

Audi R8

RNS-E, RNS-E 2010 (device have different arrangement of buttons)

Audi TT
Lamborghini Gallardo
Seat Exeo